Do you want to know what the most difficult decision in my whole life has been so far?
It wasn't deciding to get married or buy a house or what outfit to wear (even though that one does follow closely in second place) - but it was deciding what to name our daughter who is due very soon.
I have the responsibility of naming another human, yes Trent also is there to help me out, but his form of helping out is by saying "yes" or "no" or listing what possible taunts could be thrown her way at school if we named her a certain name. (This is how the name Matilda came to be crossed off our list, even though I thought it was cute & very Aussie & it was a name I loved, Trent informed me of some hideous version of Waltzing Matilda)
Naming another human being, can we just let that fact sink in... It is not like naming a dog or cat, but an actual person! What if she grows up & hates the name, what if she goes to school and some other kid has the same name?
I wanted a name that wasn't super common, but wasn't completely queer either. I wanted a classic, older style name that included hand me down names from important women in my family. I wanted a name that would be adorable when she is little but still be suitable as an adult.
So my whole life I've known what my first daughters middle name would be, Kathleen. My middle name & my Mum's first name, but that was it. I didn't know what else to use.
I trawled through baby name apps, baby websites, name books, I read blogs, most popular lists, I listened for other names, I was open to suggestions but nothing, not one name stuck to me. Except for one, one name that I have loved for a fair while. I've loved it since before I was pregnant, back when having a daughter was just a dream. And even then I figured I would never get the chance to use it, because I have been convinced for my entire life that I would have sons. And I didn't want to just settle on that name straight away without having a look & listen around in case something else jumped out at me & a few did, but nothing stuck like this one name...
This was the name I kept coming back to & Trent thought it was cute, he actually liked it. (For someone that had no suggestions he was very picky!!)
So we have our daughters name, we have decided. But it will be kept a secret until she arrives.
I love the name we currently call her, Rexy. I think it is really cute & different, but probably a bit too unique. I did pick out & like the name 'Rexana' for her, but Trent wasn't a fan, maybe it's a bit too 'out there' for us! Her actual name isn't a super 'different' name, but it's a name we both love & I have loved it for ages!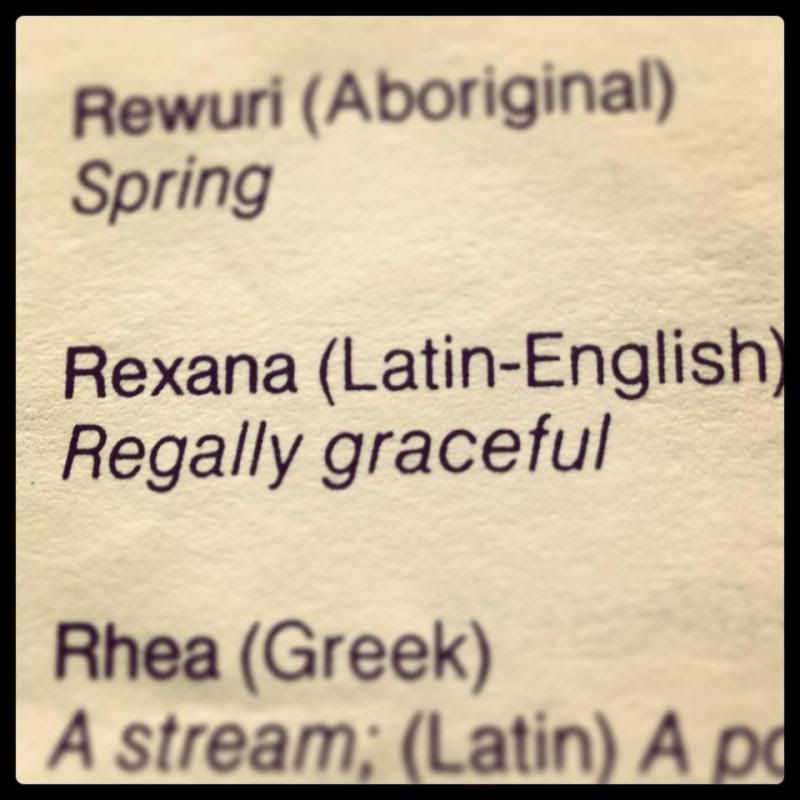 I can't wait for our little Rexy to arrive and bring light to our life and then I can let you all know her name.