Recently we renovated our 'spare room'. It is now a mixture of things, a guest room/make up room/study/sewing/craft room... Pretty much it's a huge room, but it's where my makeup table lives.
I was looking for makeup storage containers like THIS one, but seriously $123 for a plastic drawer system? Yeah, probably not. But then I realised I had a lot of used up candle jars that are really pretty that I was just going to throw away... So I did a bit of Googling on the best way to remove candle wax from jars and this is what I came up with...
You will need;
Old burned down candles.

A freezer

A flat edged knife

Container or rubbish bin to empty old wax into

Kitchen sink

Washing up liquid

Sponge

Paper towels

Any products that you normally use to remove 'sticky' residue (Eucalyptus oil etc)
Pop your old candle into the freezer. Leave it there for about 1/2 an hour - an hour or even over night.

Remove candle from freezer & slide knife down the sides of the jar and loosen the wax. (The wax actually shrinks when it is frozen, so this step is really easy)

Empty all broken & old wax into the container or bin.

Fill up your kitchen sink with hot water (the hotter the better)

Hand wash the candle jar removing any remaining wax and giving it a good clean.

Rinse under hot water & dry with paper towel.

If there is any stickers or remaining 'sticky stuff' on the candle (sometimes the wick is glued down) use an appropriate product to remove it. I use eucalyptus solution or spray, it works really well.

Once you have removed the last traces of stickiness rinse your jar under hot water.

Decide what you want to pop in your cute new jar.

Enjoy!!
*Please be careful when putting candle jar into hot water. If the jar is still very cold that hot water can cause it to crack.
**Instead of hand washing the candle jar you can try to use a dishwasher, I don't have one so I am not sure how well it will work. I've read that some jars can shatter & others can be totally fine.
I also filmed a tutorial on how to do this so if you would like to watch it please click HERE or watch below! (It also includes a bit of a 'make up collection' - well the stuff I store in jars anyway!)
I hope you all enjoyed this really quick tutorial & it was easy for you all to understand. If you have any questions please leave a comment below and I will get back to you! :)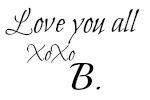 ***Please take care when using knives & hot water, following this tutorial is at your own risk and I take no responsibility for any injuries you may receive whilst doing so.