Hey everyone!
This is a fabulously fun post for me to write, I was so excited when this opportunity popped up for me, because I love, LOVE being able to give back to my readers...
So please keep reading on for a great competition!!
I was recently given the chance to work with the gorgeous Influence Boutique* online store, they are based on the Gold Coast & stock amazing brands (YAY for them being a local Queensland company). I was given the privilege to be able to select an item from their range that I liked so I could use it in an 'outfit of the day' video/post. I selected a very pretty Shillah collared sleeveless top.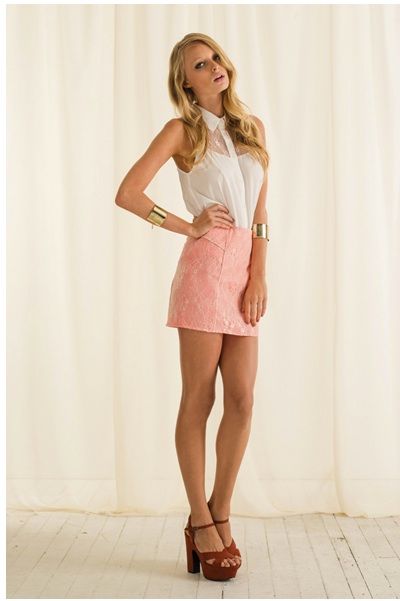 Images from Influence Boutique.
These tops are very 'in fashion' right now and similar ones can be found in almost every store. I really love this particular top because of the romantic, girly & classic feel to it. I love the sheer lace on top, it's so feminine & just a little bit sexy...
The top was shipped over night & arrived beautiful packaged.
It came in black tissue paper tied with pink & white string...
I couldn't wait to wear it. But I put off wearing it until today (I can be totally useless at times & I didn't want to risk spilling something ridiculous on it, because lets face it 2012 has been a bit shit for me & anything is possible).
The top is of very high quality & it is a stunning piece that I am now in love with!
I couldn't work out which way I wanted to style this top, I had a few options; shorts, jeans, skirts... But I settled on pairing it with a pair of shorts I've owned for a few years & that my Mother always loves on me (she is a bit bias I know, but she likes them on me & she is the most honest person in my life, so I am fairly confident if they looked horrid she would tell me...)
When styling this 'OOTD' look I planned it around the 'holiday season'. Something that was summer appropriate but still could work for a 'festive get together'...
I thought this outfit was great, I styled it with 2 different shoe options, the heels work great to 'fancy it up' a bit
(tip; nude heels make legs look longer!) And the pretty blingy sandals make it a tad more casual (& comfy) and makes it a great summer outfit that can be worn during the day or to a BBQ or even on Christmas day... To make it a tiny bit festive I added a splash of red with a pretty red watch & red polish on my toes and a hint of green (ok it's more turquoise but it's more of a greeny turquoise) with the very cool but casual tan/green clutch.
So here is the 'outfit of the day' video, it's a bit different to my usual 'OOTD' videos, but I still hope you all really enjoy it;
The outfit details are;
High-waist denim shorts; Supre

Red watch; Guess

Nude heels; Rubi Shoes (These shoes I regret buying, they are cute but stupidly painful!)

Bronze/bling sandals; Big W

Tan/Turquoise clutch; Birthday present from Libbi, but it is from Sportsgirl.

Sunglasses; Guess
After having dealt with Influence Boutique over the past few weeks I feel confident in saying they are a reliable and well run company, as I said above my parcel arrived the next morning after my order was placed... They offer free shipping on all orders over $50 (within Australia) and international shipping is also available!
And now for the exciting news; COMPETITION TIME!!
If you would like to win a $100 gift voucher to Influence Boutique (of course you do!) follow these instructions... (This is an Australia wide competition only... Sorry!)
Go Influence Boutique website - click HERE

Sign up to their mailing list... (You get $5 off just for signing up to their newsletter, they constantly have great deals & discounts so it is worth signing up for!!)

Select which item you would love for Santa to leave under you tree this Christmas & leave a comment below telling me which item it is & why... Please make sure in the comments you leave your name & email address so if you win I can contact you!

Winners will be selected at random on Christmas eve and Influence Boutique will be responsible for the $100 gift voucher.
And as a gift to all my readers the store is offering 15% when you use the coupon code below!!
It would be fantastic if you could LIKE Influence Boutique on Facebook & follow them on twitter as well they often have great discount codes like the one above & it also helps you stay up to date when they have sales!! :)
Thank you so much for all your support this year & I wish you all the best of luck!
Love you all.
XoXo.
B.
* & T.Cs; This post is sponsored, but as always I would never promote a company I hadn't personally dealt with, which is why I wanted to see what the delivery was like & the product quality. I have had no issues dealing with Influence Boutique and I trust that they will supply the $100 gift voucher to the selected winner. That being said, once the competition is drawn the prize is out of my hands, I have no responsibilities over the delivery. I like working with companies that offer to also benefit my readers, which is why I jumped at the chance when it was offered to me to run this competition, I enjoy giving back to my subscribers, that was the main reason I opted to work with this brand apart from them having gorgeous clothes & being a local Queensland company. If you want to read more on sponsored posts please click HERE