Hey everyone!
So the other day I had a bit of a 'WTF' moment. I was bored at Bunnings (a hardware store) and well, I did what any other normal blogger/girl/person does when they are bored, I was taking photos of myself... Well, it was more to post what I was wearing to Instagram, anyway I snapped some photos uploaded it via Diptic (you know that cool app, that combines multiple photos) and then uploaded it to instagram. I did this all kind of quickly & it wasn't until I reviewed the photo I went 'WTF'. My darn hair looked like it was almost blonde! I've noticed over the past few weeks it has been a bit reddish looking (much to my disgust) and my roots were getting very light, but this photo told me I needed to do something drastic immediately!
The last time I dyed my hair was last month, the 7th of June. It was the Thursday before my sisters engagement party. And the product I used was a huge disappointment to me. M
ost dyes I usually use easily last about 3 months and fade gradually to a nice light brown colour.
I really hoped & thought this hair dye would be awesome. But no, it was crap!
The product I used was the Lush Henna hair dye in Caca Brun. When I purchased this product I spoke to the girls in the store and they assured me this product would make my hair very dark and it was a permanent dye. Well, the colour change was barely noticeable, it made my hair if anything more red and it faded very, very quickly. I paid $49 for 2 blocks of this hair dye and I really regret doing so! Not only is it such a messy and time consuming product to use, it didn't even work.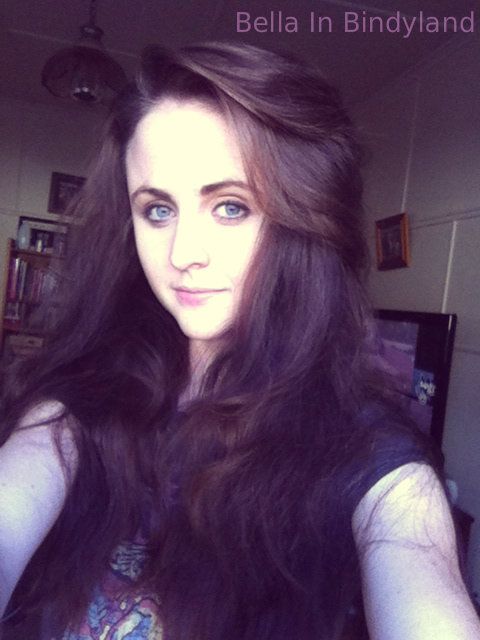 Argh WTF... This is the only 'decent' before shot I have of my hair. But this was the colour it was before the LUSH Henna hair dye...
So anyway, yesterday I headed to my local Woolworths and picked up a 'DIY dye kit' by John Frieda*, it is the new Precision Foam Colour dye.
To be honest I was a little nervous about dying my own hair, I've done it by myself maybe twice before. Normally my Mumma dyes it for me! So I set myself up in the bathroom, mixed the 2 solutions together and pumped the first ball of foam into my gloved hands and started on my roots. The product is very easy to distribute, I was worried that the there wouldn't be enough product to cover all my hair (I have very long hair, I often use 2 boxes of 'regular DIY dye'), but 1 box covered my whole head, the instructions were simple to follow and I could see the colour developing quickly. The only problem I found was in the instructions it said you hair at the end should be really white & foamy, where as mine just looked wet... So I don't know, it still turned out great though! I am really happy with the colour, it's dark and brown - just how I like it!
So I did try the natural & probably less damaging but more expensive option for my hair and that failed miserably. But the dye I am most happy with was the John Frieda Precision Foam Colour, I know it's more of a 'chemical' product & I was trying to steer away from those sort of dyes for my hair (just to try & keep it a bit healthier because I have naturally dry hair), but I guess I have to stick with what works and after using this dye my hair wasn't terribly dry like other dyes I have used. So I will just make sure to do my weekly treatments in case it does start to dry out a bit in the near future, but for the day after it still feels soft & nice! :) I feel the need to take a bit of extra care to my hair at this very moment as it is very long & I want to keep growing it but also in September I am planning to do something pretty darn drastic to it. It maybe the craziest thing I've ever done and ever will do to my hair! I hope I get to do it! So obviously if it goes ahead I will show y'all. :)
Thanks for reading and I hope you all found this review helpful & informative!
Love you all.
XoXo.
B.
And yes, I am hair-ist. I like dark hair, like I guess I just don't like certain hair colours on myself. Everyone is different and suits different styles & colours... Please don't take what I say about these colours to heart, I am friends with people who range from blonde to red to bald... Everyone is different, I just am saying I don't like red/light coloured hair on myself!
*I was sent a voucher for this product to try out (it normally retails for about $23). Having this product 'gifted' to me, does not alter my opinion of the product at all!