Hi loves!
So I have this problem, I was given these 11 CDs & honestly they aren't exactly my taste (I am pretty much a country music fan & that is it!) And well, I don't want to keep them if they won't be listened to, they deserve better than that, they should go to a nice new home! So I thought of you all! I figured maybe you all would like to take them off my hands? Interested? Cool, lets do a GIVE AWAY!!
This is a list of the CDs;
Foster the People - Torches
The Strokes - Angles
Julian Casablancas - Phrazes for the young
Laidback Luke - presents Super you & me. ft. avicii
Avril Lavigne - Goodbye lullaby
Blue Juice - Head of the hawk
Gypsy & The Cat - Gilgamesh
Cassie Davis - Differently
Eminem - Recovery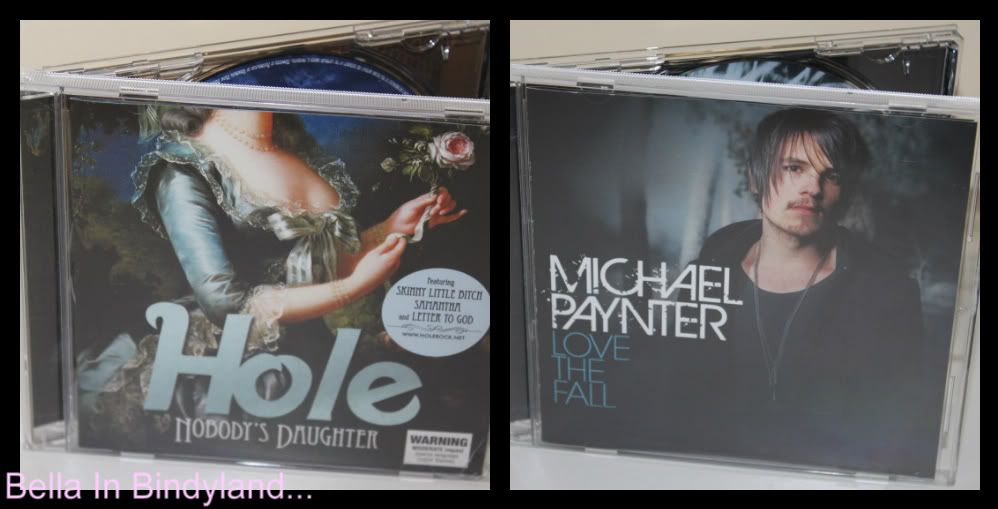 Hole - Nobody's daughter
Michael Paynter - Love the fall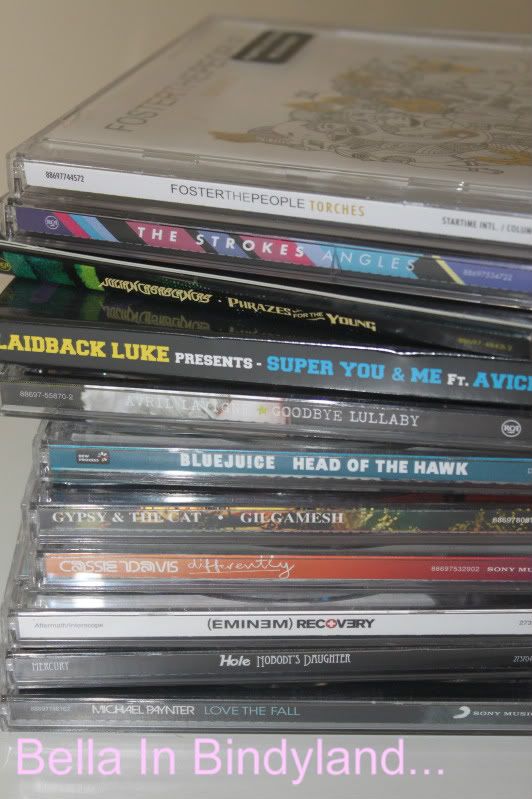 And now for a few basic rules;
1. You have to be a subscriber to my blog.
2. You must LIKE the 'Bella In Bindyland' page on Facebook.
3. Please leave a comment below telling me what you like about this blog, what you want to see more of or what your favourite sort of posts are, etc., Just leave some form of feed back for me, so I can tell what you want to see more of & make this blog better for you!
4. In your comment please also include your top 3 CD choices out of the 11. I will try my best to give all winners a CD they want, but please understand you may not get exactly what you want.
5. Please also include your email address, so if you win I can contact you so I can get your postage details!
6. For extra entries you can subscribe to 'Bella In Bindyland' on YouTube & also follow me on Twitter, you also get extra entries for Tweeting about this post & liking it!
(All details are below on the entry form, so make sure you fill it in, if you can't see it please click the READ MORE tab!!)
Competition period runs from the 3rd of February 2012 - 11th February 2012 at 12:01am.

There are 11 prizes in total.

Entry is open to Australian & New Zealand residents only.

All entrants must be over the age of 18 or have their parent/guardians permission.

All winners will be chosen at random, either by having their name drawn from a hat or via random.org

Postage is included in the prize, but I am not responsible for lost, damaged or stolen parcels.

All CDs are original and are not reproduced copies.

Some CDs may have slight damage to their cases, but all CDs are 100% perfect!

All of these CDs are my own property & I have full rights to give them away.

This give away is not sponsored.

Prizes are not exchangeable or transferable.

All winners will be contacted on the day of the draw & parcels posted within 5 working days.

This give away has no hidden agenda, it is to say thank you to my loyal readers.
a Rafflecopter giveaway
Good luck to you all & if you have any problem entering the competition feel free to contact me (bella_in_bindyland@hotmail.com) and let me know! I hope you all enter & good luck! Please do not be discouraged if you don't win, I have more competitions planned for this year!
Love you all & thank you all so much for your continued support!
XoXo.
B.