Hey loves!
On Wednesday (8th February 2012) Trent and I were up early (6:30am), got ready & headed to the Gold Coast. I was given VIP tickets to a surfing event the 'Burleigh Breaka Pro'. The drive to the Gold Coast from Toowoomba is about 2 hours, we were glad to reach the beach! Getting to the heart of the 'Gold Coast' is always a bit chaotic, but once you start driving along the esplanade of the beach areas out of Surfers Paradise it's relaxing, I really like Burleigh Heads I use to holiday there with my parents when I was younger.
The location of the event was at the headland and the VIP tent was in prime position for viewing the surfing. When we got there we picked out a comfy lounge just in front of the interview section, relaxed and watched some surfing. Now I am not the biggest surfing fan, I think it's a cool sport that I wish I could do but this was a great event to watch and be so close to the action! It was a pretty cool event, we enjoyed ourselves. We had lunch at 12, it was so yum! It was a smorgasbord of salad and warm meals. I had the beef curry, rice, satay chicken skewers, flat bread, salad and some fruit. It was all so yummy!! They were also serving beer, Breaka milk & juice, weird combination! I had half a glass of beer & that was enough for me! I really do not like beer, so I had a juice with lunch...
We hung around for a little longer at the event, but then decided to head off and check out the beach. As normal we head to 'The Spit' where we walked along the beach (we were planning on swimming, but it was a bit windy & cool), did some yabbie pumping & then Trent fished for about an hour or 2. We headed home around 3:30pm but not before stopping at a local store to grab some ice creams for the drive home!
It was such a nice day, I love being able to do fun & exciting new things that normally I wouldn't get to do. And even though I don't know everything there is to know about surfing I still had a really enjoyable time & the best part was just being with my husband! :)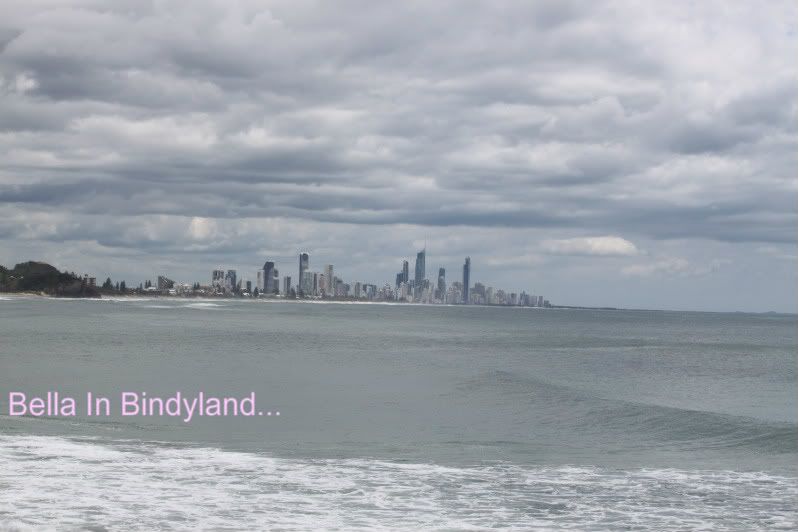 Looking out towards the Gold Coast...
Top; Just Jeans (3 or 4 years ago!)

Shorts; City Beach.

Belt; R.M Williams.

Shoes; Woolworths.

Watch; Guess.

Bag; Guess.

Sunglasses; Guess.