This is not a 'paid review' of this book, I was however given the book for free to read & review and also given another book to give away to one of my subscribers! As always this is my honest opinion. For more information on 'product talk' please click HERE.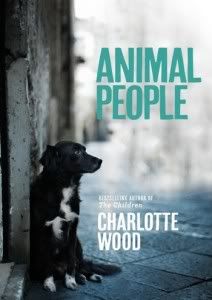 When I first picked up this booked and thumbed through the first chapter I thought this book really isn't for me. Animal People is a very descriptive book written by the talented Charlotte Wood. The books main character is Stephen, a 39 year old man who seems unhappy with life and has a strange dislike for animals, even though he works in a zoo.
The only reason I found it difficult to get into the book was not because of poor writing but because I found it hard to relate with the main character. He lives in the city - I do not, is a 39 year old man - I am a 23 year old girl & is a little negative - I can handle that, but I try to be positive. But after the first chapter, I started to get into the book, it had hooked me in! I finished it easily within 2 days. I found the ending moving and I was pleased to see Stephen learn something from animals. (That is all I am giving away about the ending!!)
The book is set on the day Stephen decides to end his year long relationship with his girlfriend Fiona. This day seems like the longest & most trying day of his life (as well as the hottest) Wood, has cleverly worded this book so all the scenarios (most of them) & the characters are relatable. She describes things, places & people so well you feel as if they are familiar.
Fiona seems to be a social class above Stephen but is portrayed as a person who doesn't care for the difference, but he seems to find it a major problem. It's almost like he looks down on the people 'socially above him'.
I do not want to give away any details or what happens in the book, but it basically is a 24 hour roller coaster, full of shocking scenarios & some funny thoughts from Stephen, who seems like quiet a sarcastic and at times sad man. (That being said, I don't find sarcasm a bad quality as I myself am quiet sarcastic!)
The final third of the book is really interesting and a massively insane domestic scenario plays out. So crazy that I wonder if anything like this ever happens in real life... I really can't say much more as I do not want to spoil the book for you all! But it is an interesting read!
My favourite quote from the book is one of Stephens thoughts on zoo animals;
Surely the most appealing thing about animals was that - far from offering unconditional love - they wanted nothing from you.
I feel this is exactly how animals are. They couldn't care if you were rich, poor, sad, ugly, gorgeous, positive, insane, sick, bald, a midget, a supermodel or even a criminal. As long as you gave them love and their basic requirements for life you were amazing to them. The reason I found it difficult to connect with the main character was because I love animals, I myself am an 'animal person'. I find being an 'animal person' makes me a happier person. I find it so bizarre when I have friends that say they find animals disgusting. Or they never had a pet growing up, or they don't know how I have a big dog as they are gross, or that cats are horrid creatures , etc. I just cannot fathom the idea of hating animals or even simply not having a pet. But I guess everyone is different.
I found this book an interesting read and Charlotte Wood is clearly a very talented writer. She also writes a blog you can check out HERE & her Twitter account HERE. And for more information on this great read please go HERE!! This book would make a great Christmas gift for a book lover or even for yourself. (Yes I buy myself a Christmas gift)
But for one lucky reader of my blog you will not have to buy this book!! That is right, this is a GIVE AWAY!! YAY!!!
To enter you have to do is be a subscriber to my blog and comment below saying if you are or aren't an animal person and why. Or your favourite 'animal moment,' give me something interesting to read about animals! (Please include your email address so I can contact you!)!
And I understand some people don't have a Google account or whatever you need to follow this blog so you can also 'LIKE' my blog Facebook page HERE or follow on Twitter HERE to be eligible. But please comment below and let me know if you would like to be entered & which platform you are following me on!! :)
The competition will end on the 27th November 2011 at midnight (EST).
I will draw the winner in 2 weeks from today on Monday the 28th of November 2011.
*I am really sorry but this competition is only open to Australian residents & if the winner doesn't contact me within 5 days of the 'winners announcement post' which will be on Monday the 28th of November, the prize will be re-drawn*.
Thank you so much for reading.
Love you all.
XoXo.
B.