So last weekend was bad. We lost our beloved hound Duke, we spent all Saturday night & Sunday day (Fathers day) searching the whole of Toowoomba for our fluffy pooch. We had no luck. Monday morning came & I was calling the pound, every vet I could think of, had placed a 'lost' ad' in the local paper & was about to start making some fliers. When I got the sweetest phone call ever, it was someone saying Duke was found. Oh my lord, I have never been so happy. I collected him that afternoon & I was never so happy to see those big ears & fluffy tail!
This week just has gotten better & better. It's been such a pleasant & lovely week. I've been waking up early (ok like 8am, but that is early for me!) & getting all my 'housewife' jobs done in the morning & spending the rest of the day with Mum or Nikki.
Here's a quick run through of my beautiful family orientated week;
Saturday; Mum, Trent & I cleaned up under our house & had a great day. We had dinner with my family that night. After they left, we were notified by our neighbour Duke was missing. :(
Sunday; Wasn't a great a day. But it proves Trent, my family & I all are their for each other through the tough times & support each other 110%. We all love each other!
Monday; Pick up my brothers from school & get Duke back!! *YAY*
Tuesday; I spent an hour in the morning with my younger brother Lachlan. I took my filthy dogs to get bathed, I detailed my lovely car (I am still so happy to have my own car!!) & then I headed over to Highfields to visit Mum & Nikki. Mum & I saw an echidna scurring around one of the local parks there & then when I arrived home that day my Taylor Swift concert tickets were waiting for me! I cannot wait for March 6th 2012! So excited! And I took some lovely photos of our dogs since they were all clean & snazzy!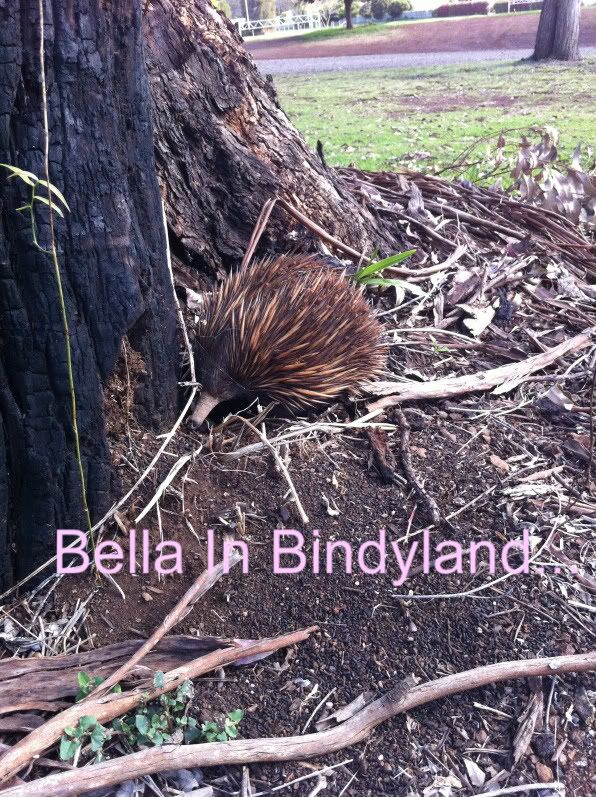 ECHIDNA!! I LOVE Australian Wildlife!! So I was super excited to see this little fella!!
Wednesday; I did the groceries & took the dogs to Nicole's house for a 'doggy play date' with her dog Oswaldo (Ozie)... Then she came to my house for dinner & we hung out watching the Kardashians & playing on photo booth!
Thursday; I went shopping with Nikki & we hung out again. I bought the most lovely candles from Target, so cute!! And then we just hung out & later in the afternoon I visited my parents.
Whilst chatting with Dad this afternoon in the front yard, I captured this awesome photo! I love it!! It's the sun setting behind a lavender bush! :)