Hello!!
How are we all doing this weekend? Well today is Saturday & I've been just chilling out & getting some stuff done around the house as I don't really know what the next few weeks will be like considering I have jury duty for 3 whole weeks - like really? Argh, what do I even wear? Seriously, what the hell do I wear?! It better be an interesting case or I am going to need some of those Homer Simpson glasses that he uses in court... (you know the ones with the eyes painted on them so you can sleep but look awake) Also apparently there is no parking at the court house, so they tell you to catch a bus!? A bus!!! What the hell, I have a brand spanking new car for a reason & I do not like buses or people that much. So it should be a riveting experience for me. I just rang the recorded message to see if I am actually required for jury duty on Monday, apparently I am. So fantastic... I am just glad Trent will be home to drive me in & pick me up. But argh, I am not pleased that I will be wasting so many of my days, I enjoy having my whole days free to do as please. But oh well, I am just hoping it's an interesting case...
I had lunch with Mum & Lachlan today as Tristan & Dad in Ipswich enjoying themselves at the V8 Super Cars (Ipswich 300 - whatever it is called). I got two 3 day passes & I knew Dad wanted to go, so I gave them to him & he took Tristan today & will take Lachlan tomorrow. I love being able to give them stuff I know they want. :) I love making my family happy...
Anyway this blog is a bit random but I wanted to talk to you about my latest iPhone obsession... Yes I was reluctant to even get an iPhone as I was not an Apple fan at all. I still am skeptical, yes I am saying that as I type from my new iMac... They are amazing machines, but I'm still working out all the functions, short cuts etc. Anyway owning an iPhone means having 'apps' (yes I am aware there are other phones out there that have apps) so I have a new favourite app - yes it has replaced my absolute favourite 'angry birds'! It is instagram
!! So what is it? It's a photography app, that is super easy to use, you either select a photo off of your camera roll or take one & then go into the pre-set editing options which can make the most average photo look awesome & then caption it, select if you want to upload it to Twitter or Facebook or both, hit done & hey presto you appear to be one artistic little person! I take photos almost everyday, I love having a way to share them with my friends & family pretty much instantly!! Do I suggest you get this app if you can? Heck yes!! It's 100% FREE to download - YAY for free things!! Easy to use & I think it's interesting!! If you happen to make an account make sure to add me :) my username is; bella_in_bindyland (I'm creative!) The other thing I really like is that it automatically saves your edited photos to your phone.
These are my photos so far thanks to Instagram...
I instagram - food, clothes, shopping, life, me... anything.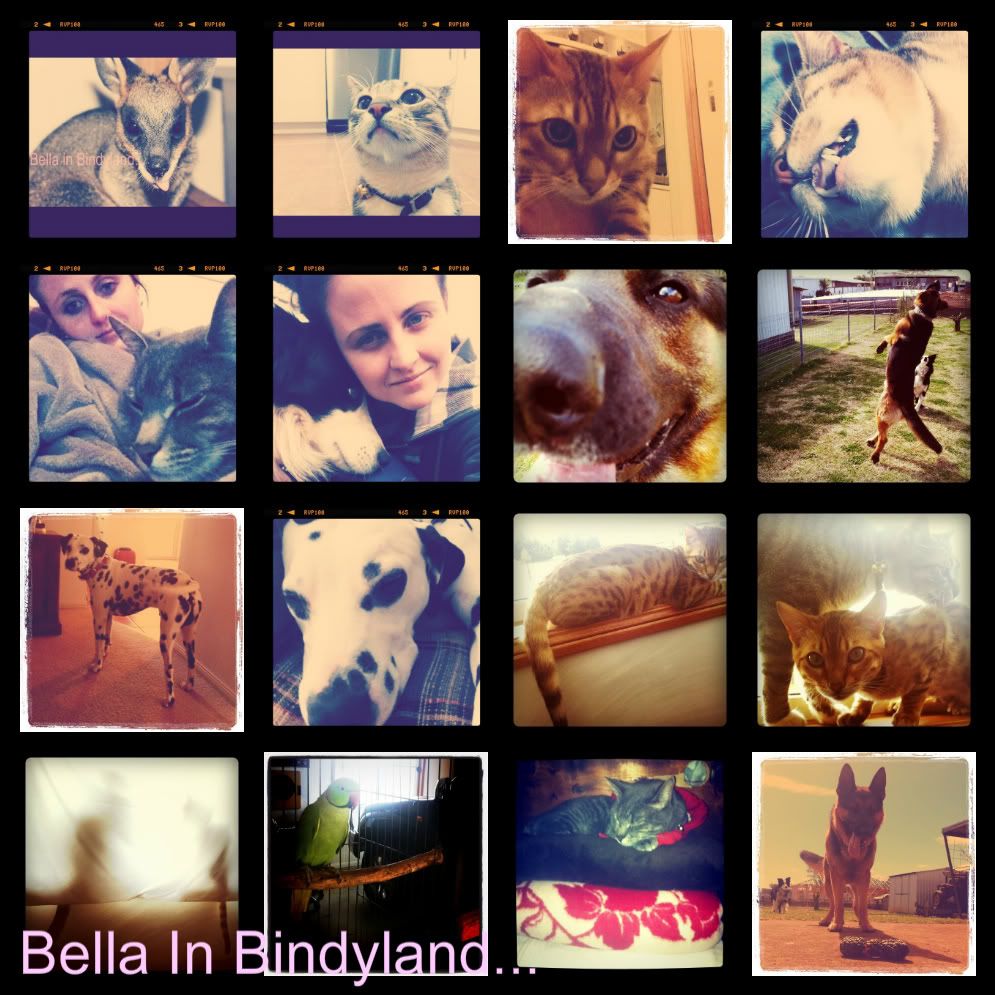 Yes my instagram is full of photos of my pets & my parents pets. I absolutely love some of these shots & how they have turned out!! (especially the one in the bottom right hand corner of Duke!)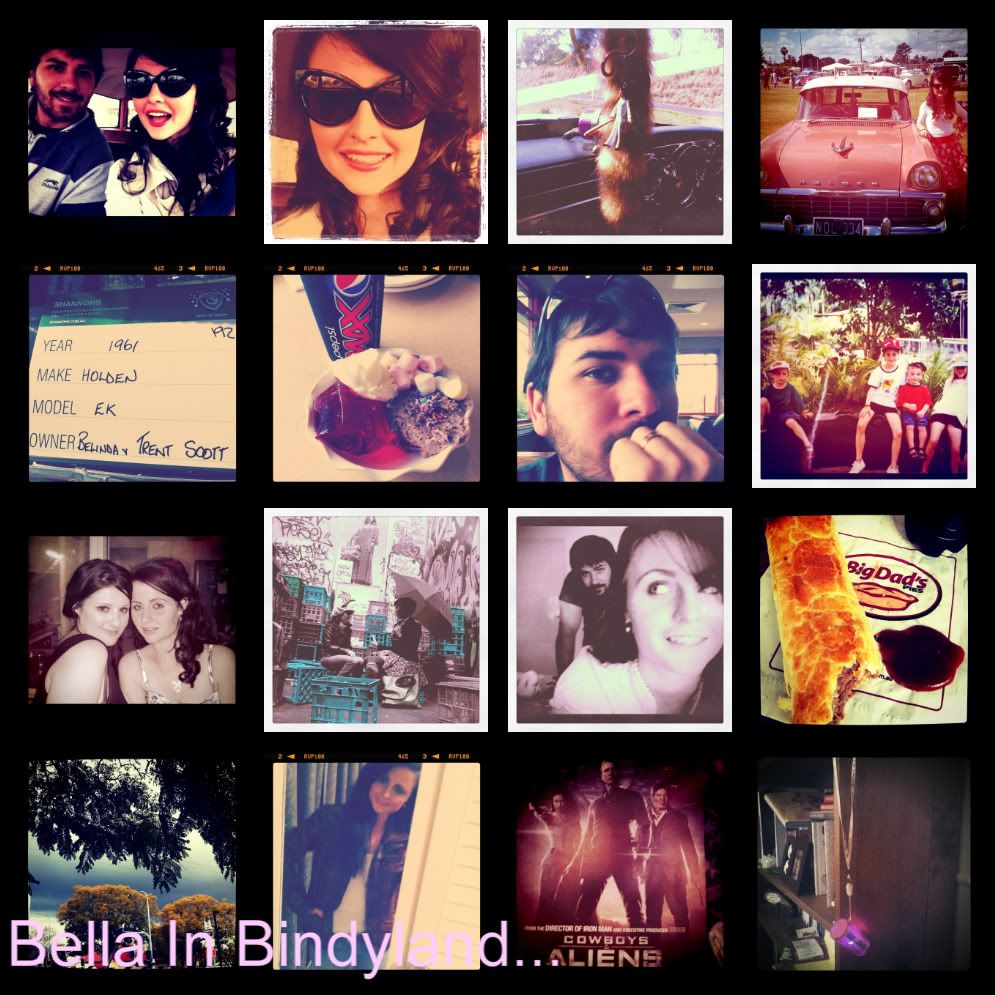 Yes a very random mix of photos, but life is random. & I also like to post some old photos that have been edited that are my favourites...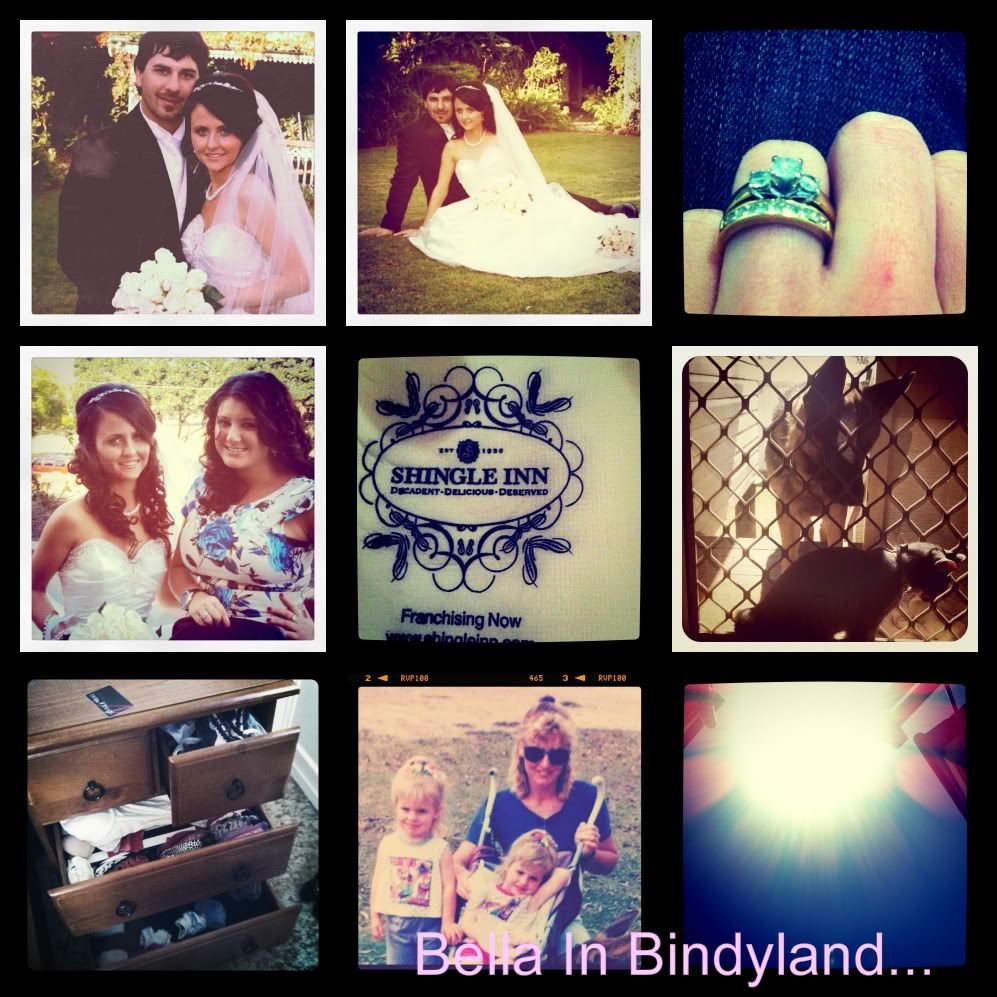 I love posting some of our wedding photos on here, they look so cute in some of the cool settings they have.
Anyway lovelies let me know if you make an instagram account, what you think of it & make sure you look me up & follow!!
It's a Saturday night so I am off to have a super exciting night.... Probably watch some 'Keeping up with the Kardashians' (Kim gets married tomorrow!) & work on my wedding reception blog. :) It's kind of cold here tonight, so I've got the fire going to keep Mishka & I toasty warm... (Trent's on nightshift...) Tomorrow I am heading to Ipswich for a lady date with my lovely Libbi... So that shall be super fun.
I just realised I've done like 3 blogs in 3 days... That's impressive...
I would really like to thank everyone who positively commented on my last blog post, thank you for showing your support not only to me but to this blog as well. Seeing that you actually care has made me want to write even more... So thank you!! :)
Love you all.
XoXo.
B.