Hey all,
Sorry about the pretty big time delay between blog posts... No excuses, just that I've been run off my feet!! All wedding related stuff!! It's been full on, invitations, decorations, lingerie shopping... And those things are now all organised. As is the DJ & the church stuff is also getting there. I just have to pick out some verses that I like to be read at the ceremony... I'm beyond exhausted, it's ridiculous!!
Anyway I thought I would just check in & give you all a quick update on what's happening in the way of the wedding...
Invitations; have been ordered & should be back in about 10 working days - YAY. Then will be posted out, so loved family members & a few select close friends, stand by your mail boxes!!
Decorations; Have been ordered & dude, they are STUNNING! It will be a BIG surprise just like most of the wedding is, but I will give you a small sneak peek. This is an example of the floral arrangement that will apart of the table centre pieces. Roses are my main flowers, I love them!!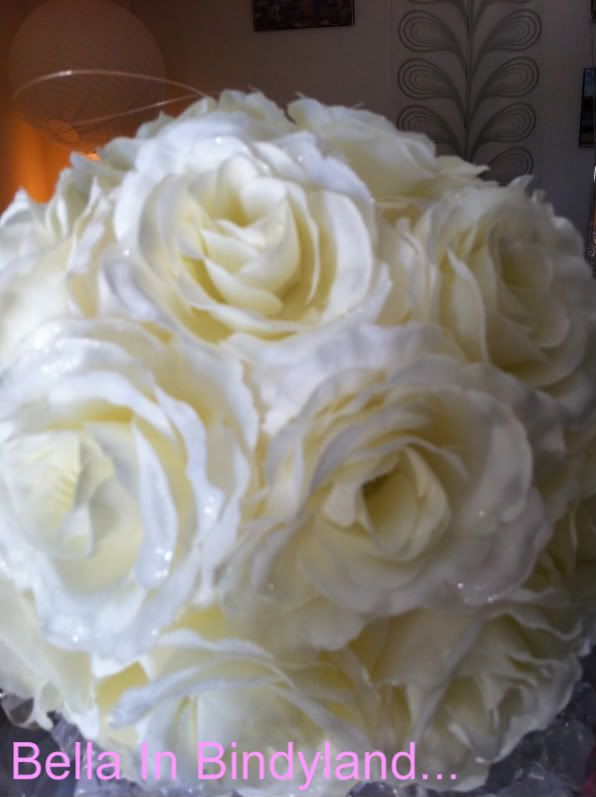 A sneak peek of the decorations.... Sooo pretty!!!
DJ; Well we had a bit of an issue with a DJ but now we are all sorted & have another (highly recommended) one booked in... YAY
Videographer; We have a videographer!! YAY... I really, really wanted a video of our wedding day & our parents have decided to help us out with the cost so we can get one (as they are REALLY pricey...)
Cars; This maybe one thing I am soooo excited about, my parents have surprised Trent & I with our 'dream wedding cars'. They are sooo gorgeous & Dad knew the cars I wanted but I said no way am I spending $1500+ on 2 cars for like 4hours!! So we found some classic old cars that we were happy with, but then Mum & Dad surprised us & said they had booked these gorgeous cars for us... We were soo shocked & happy!! I am sooo grateful to my parents right now!! The cars are classic & soooo very beautiful, but once again all of the 'finer details' will be released after the wedding. As I like keeping it a 'surprise' for everyone. Like honestly the only people who know every single detail of our wedding is my Mum & I. Dad also knows most of the details.... So a big THANK YOU to my parents :)
Dress; My dress is here!!! YAY... I am planning this coming week to go for a fitting & get the alterations (if any are needed) started... I am so excited to see it, it's gorgeous!! I am even more excited to show you all photos after the wedding!!!!
Lingerie; I have been hunting for the perfect 'set' for seriously FOREVER!! I had a few rules, had to be cute, not trashy. It had to be strapless (for my dress). It had to be sweet, not gross. And it had to be Playboy by Bras 'N Things (because well, honestly, without those bra's I have zero boobage!!) And I found it!! Perfect I love it!!
Church; Church meeting has been done!! We have another coming up in June where we will finalise all the finer details of the service... St. Mary's is such a gorgeous church & it has history with us (as we both went to school there!). It's just finished being remodelled. I took a few snaps outside the church as we were a little early to our meeting!!
Bridesmaids; Are all organised, dresses are done... Just need to work out shoes & hair. :)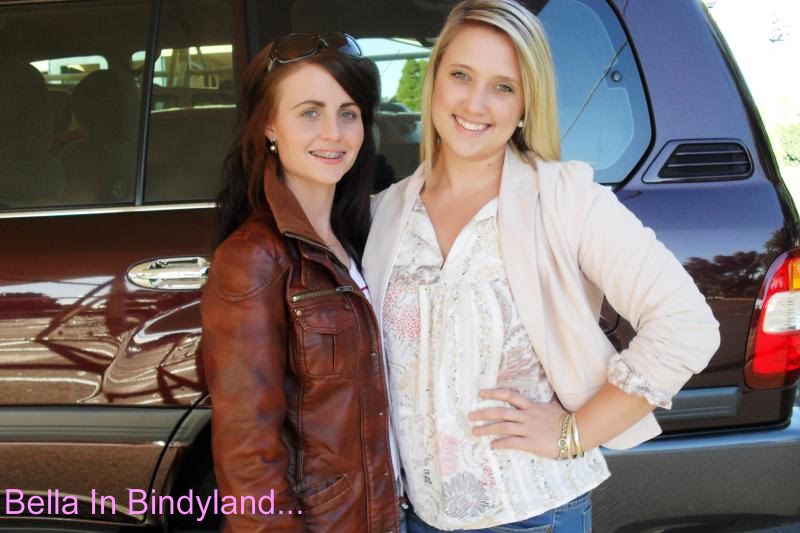 One of my lovely bridesmaids & really lovely friend. <3
Flowergirl; Her dress (soooo adorable!!) is ordered, she has her little fur jacket, her stockings & shoes...
Rings; My wedding ring is gorgeous!! And will be here on Friday, then it has to resized, FUN! Trents we will be picking up on the same day!! :) Exciting!!!
Groomsmen; Trent & the boys will be ordering their suits in the coming weeks :)
Something old, something new, something borrowed, something blue; I have been given a pin the Trents Mums Dad gave to her on their wedding day... It's really pretty & is a little blue peacock, that will be pinned to a horseshoe my Mum carried on her wedding day... :) So I will carry something from both my Mums. :) My something borrowed is also both of those things, my something blue is the peacock pin & my garter. My something new is my dress, shoes, lingerie, veil etc etc...
Ok so here are some photos we snapped the other day out the front of the church whilst we were waiting for our meeting!!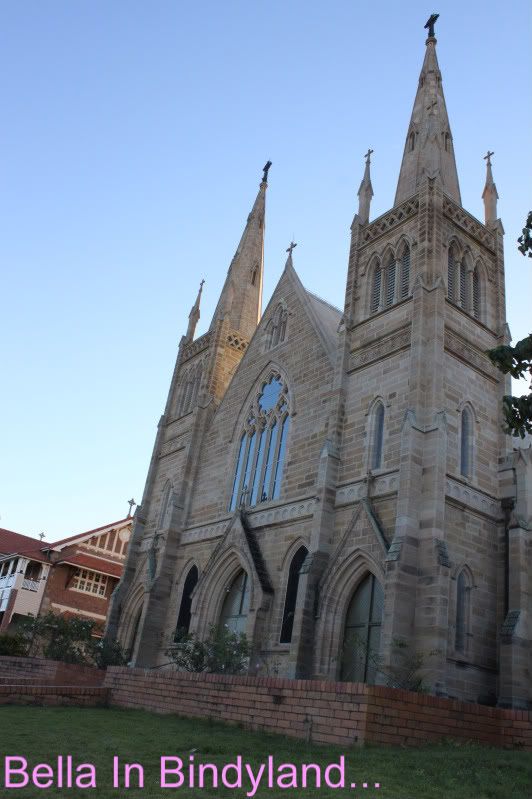 I'm not going to lie, this church is soooo stunning!!!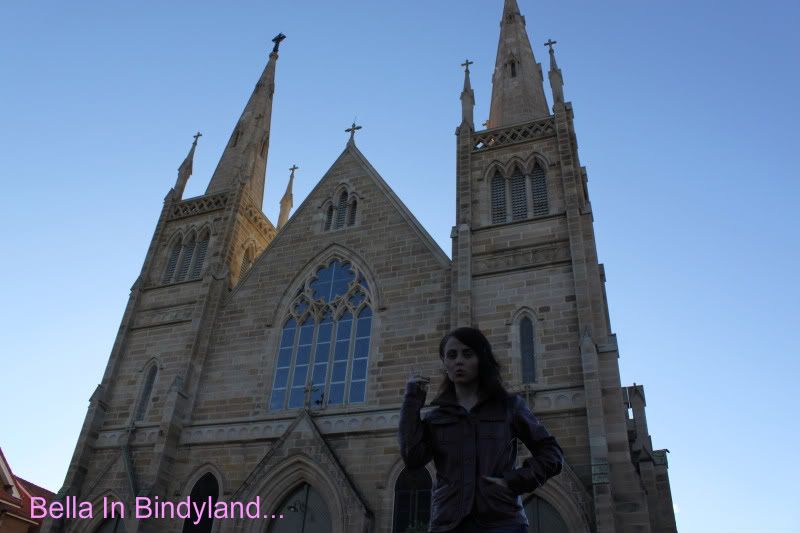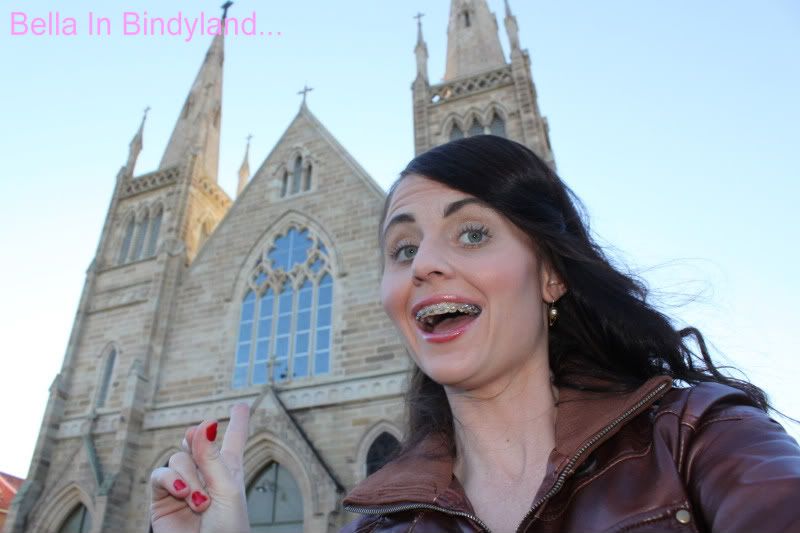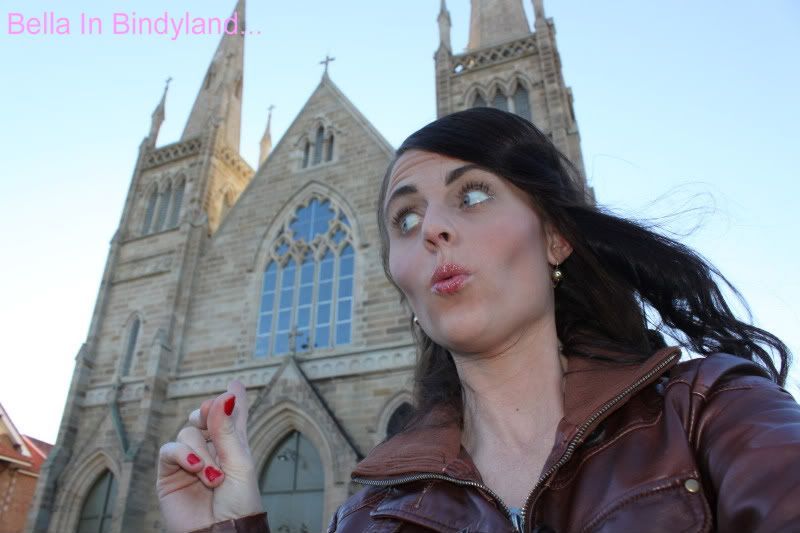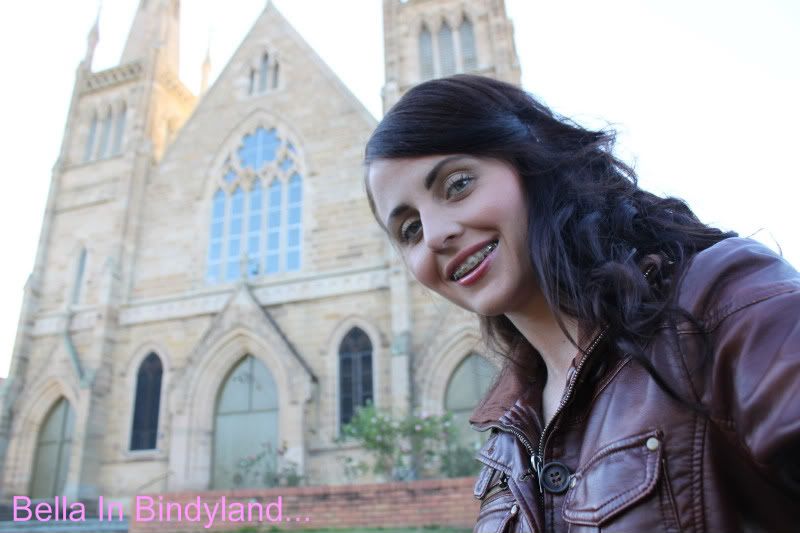 Me & the church we will be married in!! I can't wait...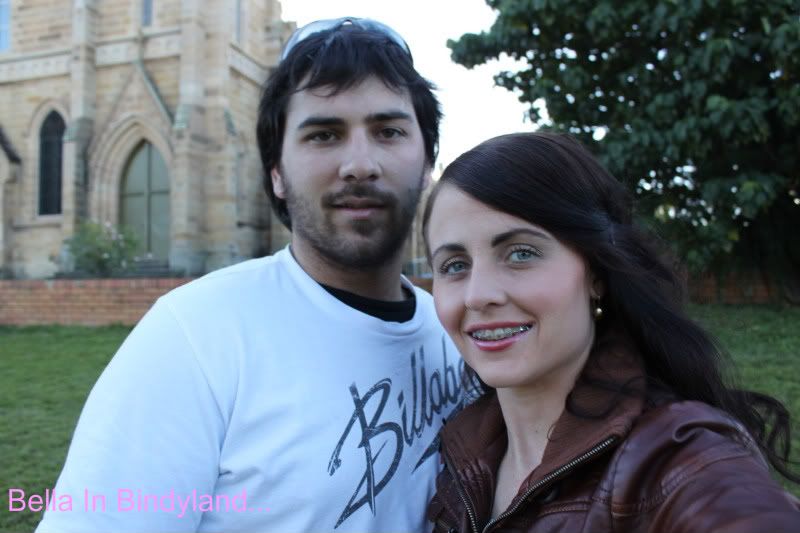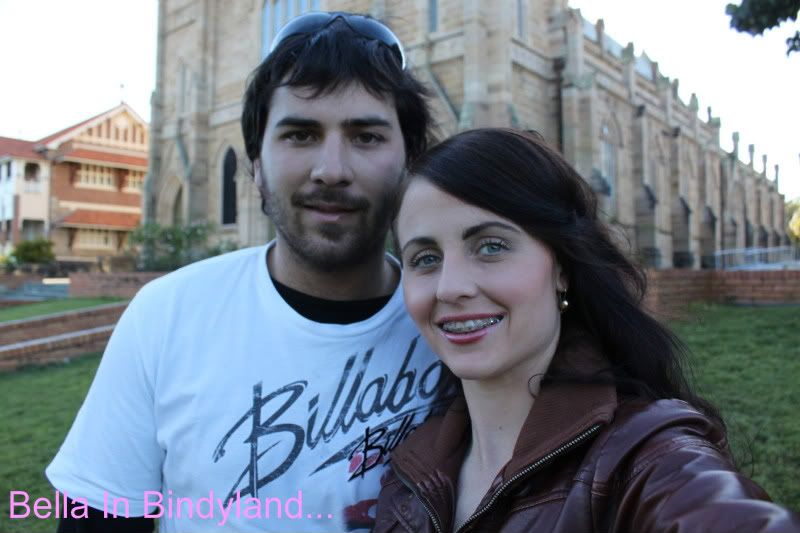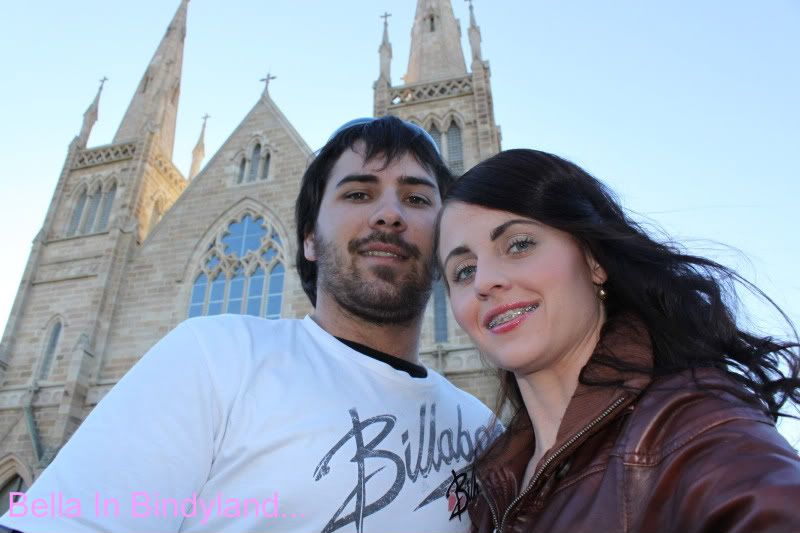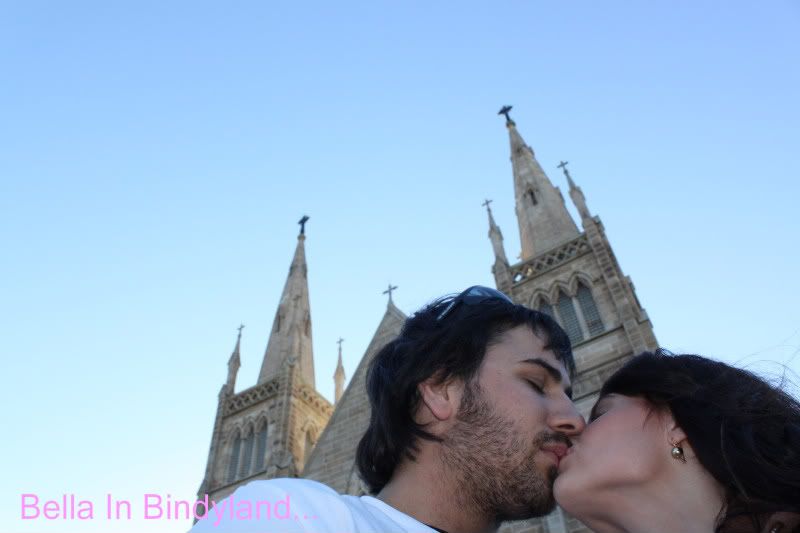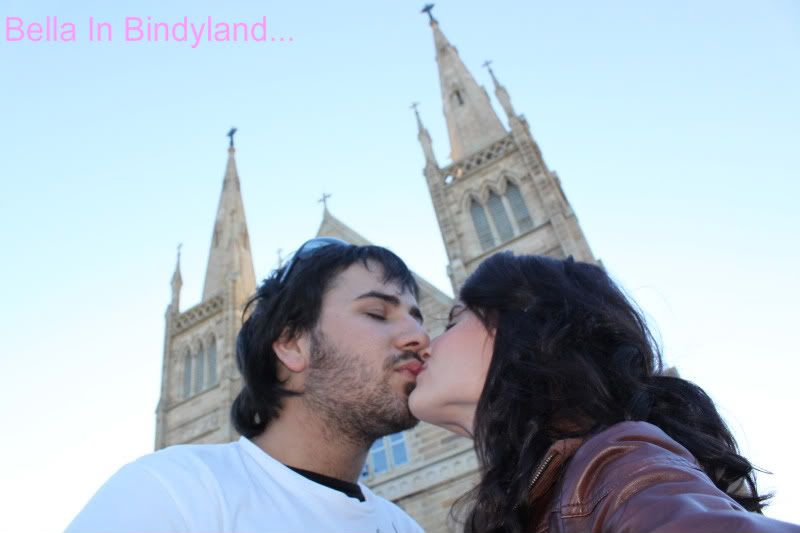 Bring on the 30th of July... I love you babe!!
So I think that is pretty much everything done!! It's all coming together really well!! It's soo exciting!! We are moving on from the stress & negativity cause by others, we roll with a new mantra 'don't love us, forget us'... We don't want nasty, spiteful, negative people around us on our wedding day. It's a day of love we are planning to celebrate with our family & our close friends that love & support us & our relationship.
Love you all.
XoXo.
B.