So the other week I had a little 'shopping spree'. Suprisingly enough to most peoples opinions, I don't often spend money on myself. I will buy gifts for my family & things for our house, but normally when I shop for me, I search the sale racks & wait for sales, just because it's how I am - I love a good bargain!
But I've been holding off on buying new 'thick' foundation. I have been surviving on Covergirls 'Clean' foundation, it's good, but not as thick as I like my foundation... So I knew the Priceline 'A bag full of beauty' sale was coming up... I thought perfect! I will pick up some Revlon Color Stay foundation, I use to wear this stuff in Highschool & I still love it. (I am on the look out for a more 'high end' thick matte foundation, so if you have any suggestions let me know!!) I also needed from Priceline some Bio Oil (for my surgery scars & it's just good for your skin!). So I had 2 things I needed, but the catch is you have to spend $50 to be eligible to recieve the free gift bag... So I picked up some new wax (for something new I am trying Nair Salon Divine Sensitive Wax - I normally use Nads - the one in the red box!)... & then I also needed some nail polish to help my nails become stronger as they seem to break quiet easily; so I popped some Sally Hansen (I really love this brand) Miracle Nail Thickener... So that got me over the $50 line (more like $80 - woops, but I needed it all!) The gift bag has the value of over $200... I love 'free gifts' like this, because it gives me the chance to test out products that I normally wouldn't purchase.
I will do my best to review each product & because I bought each product I can gurantee you an honest opinion on each item (not that I wouldn't honestly review a product if it was a sponsored post!)...
Now for some photos of the products!! I guess I will review them in groups..?
These are the products I purchased.... I will do a quick review now on each of these...
Revlon Color Stay Foundation: I used this foundation all through out High School & it remains to be my 'go to' foundation if I can't be bothered searching for a new brand. It's reliable & last well. It has good coverage & a good consistency & is easy to use. They have a wide range of colors so it's highly likely you will find a shade to suit your skin tone :) I really like this foundation for an everyday wear.
I am on the look out for a more high end foundation for when I go out to fancy places. Suggestions?
Nair Sensitive wax: I have never used this brand before, I normally buy the Nads wax (in the red box...) Anyway the other night I waxed my umm... lady area or 'bever-housen' (t
o much information?) Lol. Anyway I really love this wax. It's a glittery purple color (much better than evil looking red color that looks gross!) It has a plesant smell, but it also smells a little bit like hot/burn
ing rubber!? (I've spent a fair bit of time around cars & drag strips etc.) I thought this was a strange smell, but once you apply it you understand why it smells a little like hot rubber. The wax is really flexible!! When you spread it on it's like stretchy.
It is hard wax (which is the only wax I like, I hate those strip ones) but it doesn't snap in half from being to 'hard' like the Nads formula does, it sets firm but isn't rock hard. It's a really good formula!! The only thing I would change is make the tub & amount of product bigger (as I used like half a tub on my first use). Maybe include some extra wax applicators. But really I liked this product & I will be purchasing it again :)
Bio Oil: Since having my surgery (click HERE to read about that)
in November 2010 I have been left with some tiny but not so pretty scars on my tummy... I do not wish to keep them. And from all the reviews I've read, this stuff rocks!! (And my Mum also loves it!!) Now not only do I put it on my scars I dab a little on my under eye area. The other day I noticed my eyes were looking really old/tired thanks to my lack of sleep. I put some on & the skin seemed to look fresher & less thin the next morning. I am not saying this is a miracle formula, but it did make my under eye area look healthier. The instructions say wait about 3 months before judging results, so I haven't seen an miraculous results with my scars yet. But going by how well it works for my Mum, I am fairly confident they will disappear soon!! This product is also highly reccommended for new/expectant Mothers for stretch marks!
Sally Hansen Miracle Nail Thickener: Now I keep trying to grow my nails long, but they break all the time!! So I decided to buy this formula & my nails haven't really broken since. They feel a lot stronger & harder and I can see that they are slowly growing... I think Sally Hansen does some fabulous nail products, I've tried so many. And I can always notice results when I use them. The price is a bit high (I think this bottle was $18.95) but they do last a long time!!
This is the bag all the *Freebies* came in... It's huge! I am just using that water bottle as a size comparision... It's a BIG bag. perfect for a beach bag, carry on, even maybe an over night bag. I would probably use it to store toiletries when I travel or perhaps a hand bag, but it's fairly big!!
All the "free" beauty products!!!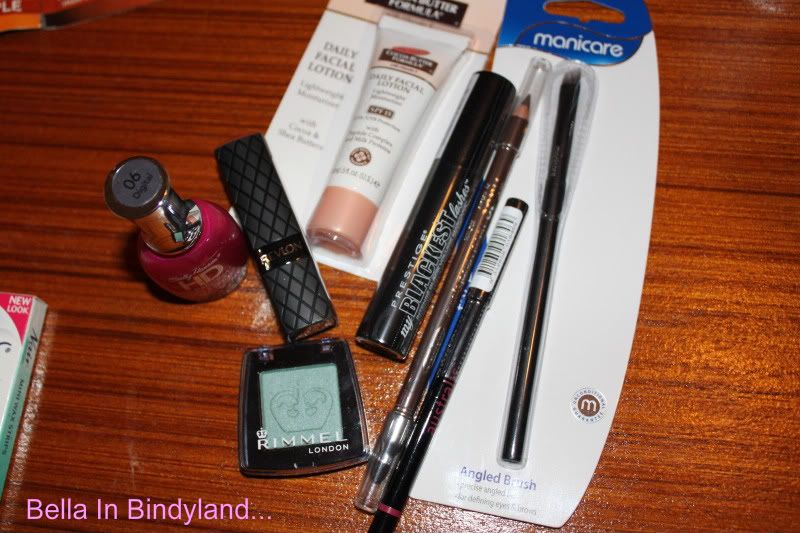 The 'make-up' product lot.
The body & face products.
Hair products & a stain remover pen (sorry it was a random product so I just put it in this group LOL)...
Let me know what you would like to know about a certain item, or if you have used any of these products, what did you think?