Howdy ya'll again,
My outfit for the Alan Jackson concert was pretty common, maybe a little more pink then everyone else there, but a lot of people were in jeans, boots & collared, button up shirts. There were also some special individuals that looked, well like try hard country escorts. I'm sorry but who wears little shorts or dresses with high heels or try hard/wanna-be/cheap cowboy boots to an Alan Jackson concert, it's a country music concert not a club!... Anyway, I guess girls like that will always be everywhere.. Then there were some 'older gentleman' that looked like wild, wild west gun slingers... It was pretty funny. But I just picked the safer option as did most of the crowd...
The outfit I wore was pretty typical to what I normally wear, with fancier hair & makeup I guess & for something new I tucked my jeans into my boots, I'm undecided if I like it or not... Opinions?. :)
I didn't go to 'out there' or 'fashionable' as I'm not that 'fashionable', I just went with what I am happy with. I just think once you find something you are comfortable in & feel confident in, why not wear it all the time!? Like not everyday, but if it works, roll with it...
What I wore was;
Pink Bullzye Shirt.... It is a child size (hehehe.). I was running out of time & needed to find a cool shirt to wear & everything was way to big & bulky on me, so this one fitted nicely...

Jeans are by Guess, they are those skinny jeans, which I am not a fan of normally but these ones are actually really nice.

My beautiful boots are by R.M Williams. I love them & they are the best shoes I have ever bought!! They are my favourite!!
The belt is also by R.M Williams... I bought it a few years ago, but it's classic, I love it. & I am pretty sure they still stock it, maybe?!
Anyway this is it... Let me know what you think...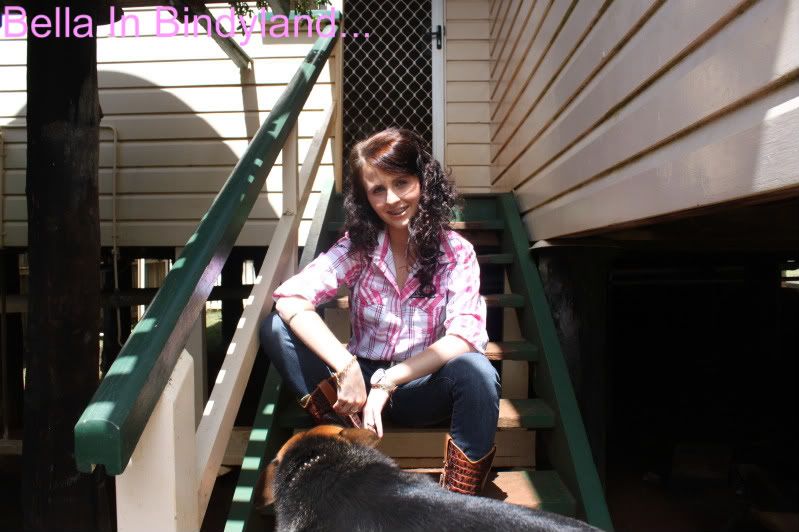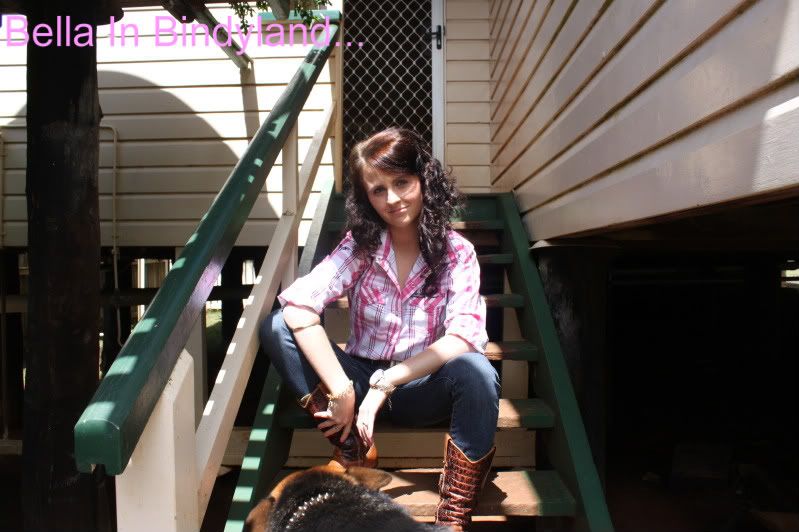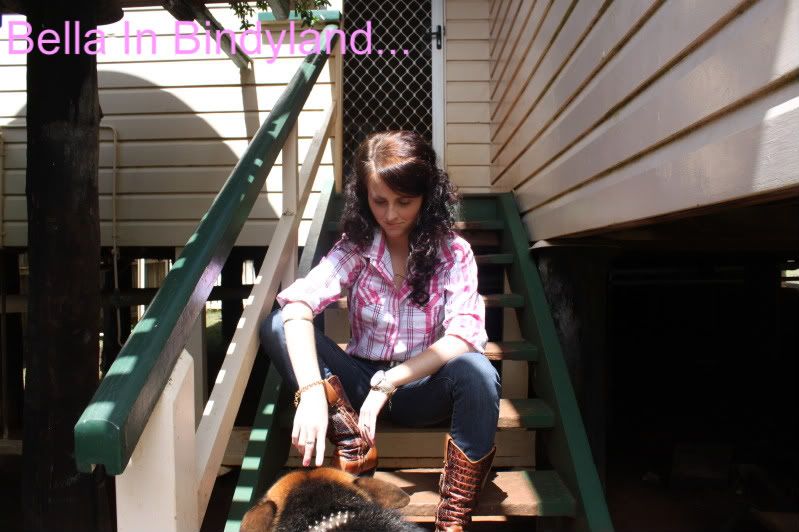 On the steps with Duke-nacious...