So I've had dreams that I wouldn't find my wedding dress in time for our wedding (July 30th 2011) & end having to walk down the aisle in white jeans or my wedding lingerie... Scary dream hey!! Well this dream has been cancelled, I officially ordered my beautiful wedding dress. And I think it's stunning, I am sure every bride thinks her dress is the most gorgeous as everyone has different tastes and ideas on what's beautiful. But I really love mine, I think it's perfect & princessy & classic. I will not be posting any photos of my dress until after my wedding, as it will be a surprise for everyone... And honestly you just can't trust people, you tell one person & then wow everyone knows. I am just not risking it. The only 2 people who know what the dress looks like is the 2 people who helped me pick my dress my Mum & Dad... I value their opinions & I really wanted to know what they thought, Mum likes any dress on me but Dad really liked this one. So I'm glad they both love it & were happy with my choice... That means a lot to me.
So here are some photos of Mum and I wedding dress & veil shopping... Lots of things to try on & the lady was nice enough to let me snap a few photos... (So I should be allowed I spent enough money there LOL). Speaking of money, wedding dresses are not cheap things. This is one super expensive outfit that I will only ever wear once (including shoes, veil, tiara, alterations, underwear, wow it all adds up)... But I found a gorgeous dress that which thankfully wasn't overly expensive (but still... a lot of money for a dress). I was honestly torn between 2 dresses, but this one had a bit more of umm.. well I guess the *WOW* factor... I put it on & honestly it sounds so cliche but I feel like a princess. It's gorgeous & so well made & isn't from a 'popular' mass producing store, this store keeps their stock limited & small & I well I guess the price tag on some dresses maybe a turn off to some people, but I prefer to pay a little extra & get a dress that not every bride has. To make it a little more unique, I maybe altering it a little bit, when it arrives in May... But I'm still thinking about it...
Anyway for the photos... Here they are...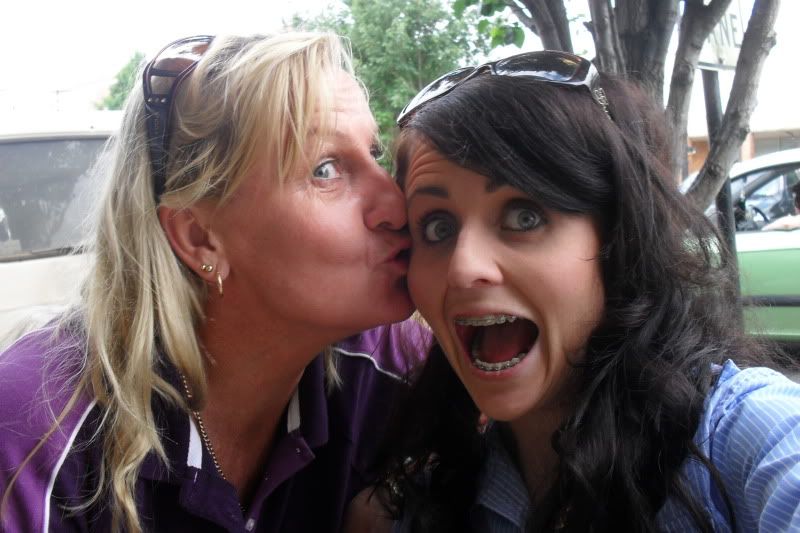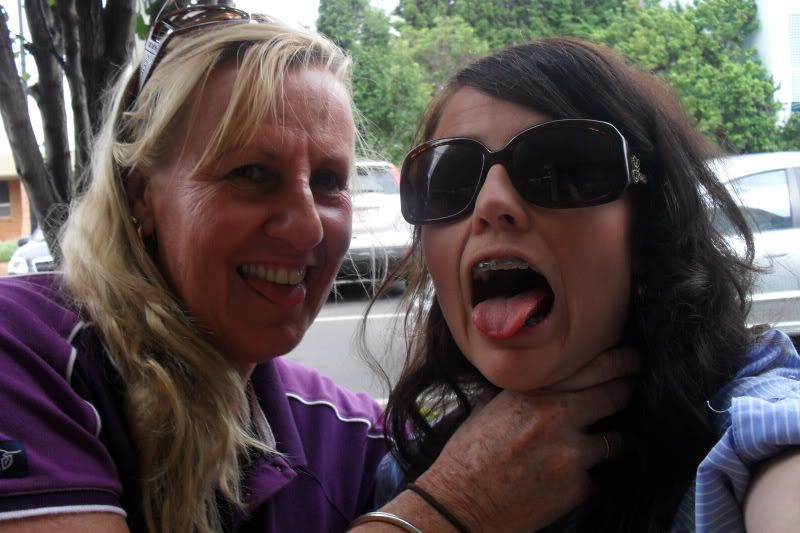 This is Mum & I hanging out the front of the bridal store waiting for Dad to turn up... So we took some silly photos. People passing by obviously thought we were nuts. hehehe.
Hmmm.... what dress do I pick LOL.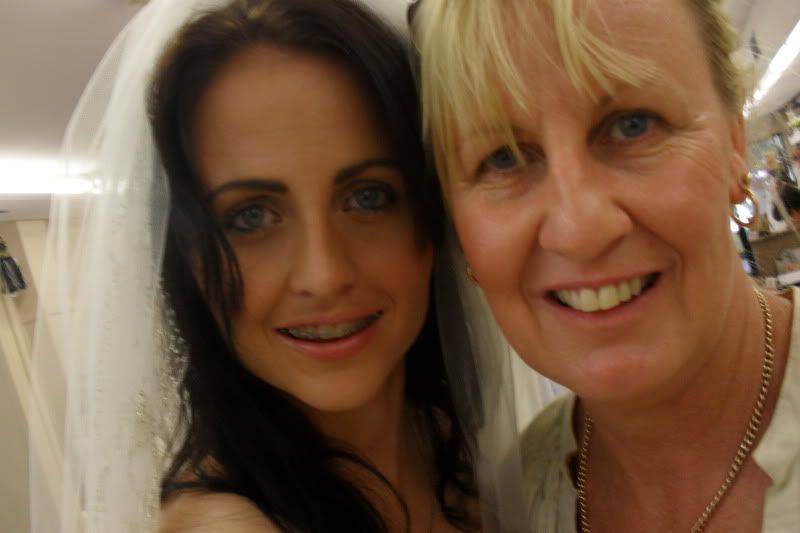 Mummsie & I in the bridal store trying out veils... The veil I like is over $800.00. $800 for a bloody net!! What the hell....
Mum making herself at home in the bridal store, shoes off & looking through bridal catalogues... Well, I spent enough money they should let us feel at home there LOL...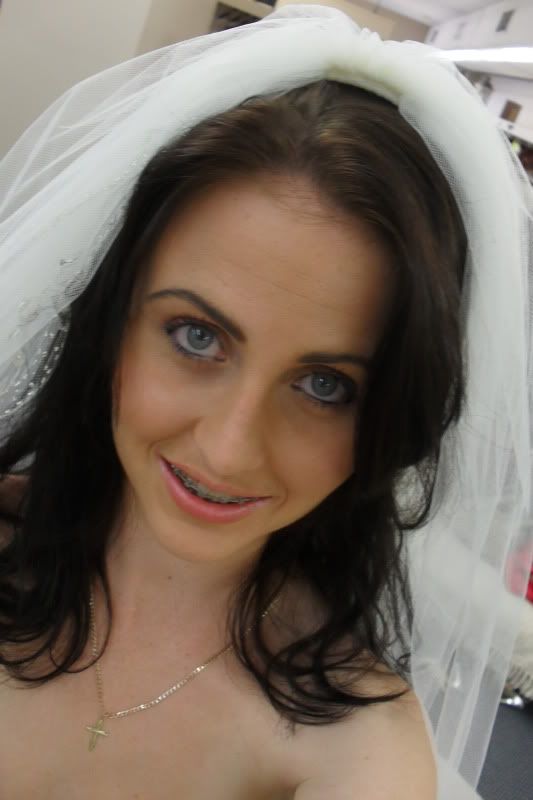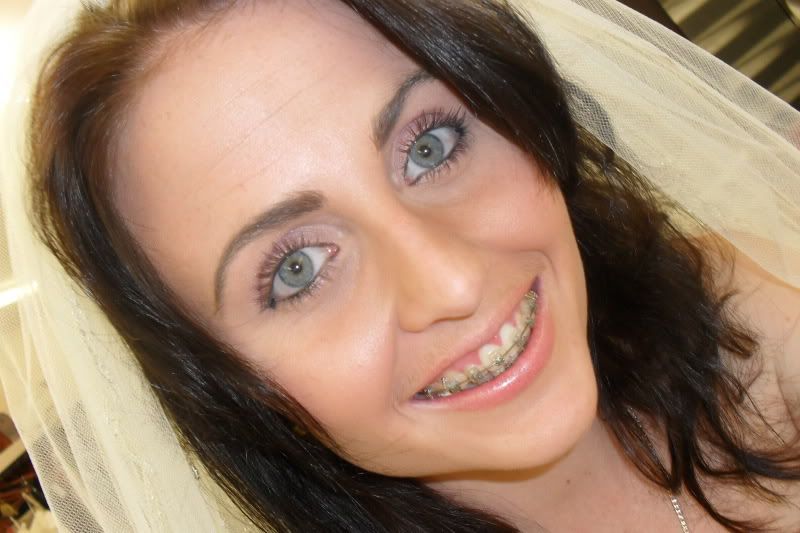 'Bridal Bindy'... Do you think I suit the 'wedding look'? I like it, I think so. I think my dark hair suits a veil :) It was so much fun trying on veils to suit my dress & snapping photos.... Come on July, I'm so much more prepared for you now. At least I can say I will now be clothed bride not a naked one. Lol. xx
And how exciting is this... it's my 98th blog!! Next blog after the next will make it 100!! Oooo what to write about... Also you may have noticed a poll over there --->>>> well it's to help get an idea of what you guys want to read more of, see less of & what sort of people read my blog (obviously someone reads it, the stats/reader tracker tells me so). So please if you have 2 minutes spare, please fill it out :)
I'm thinking of posting an outfit post soon maybe after the weekend, let me know what you think.
Ok love you all.
xoxo
B.